Strategy planning for non-profits –
The Fifth Conjunct Partner Series Event
If you have been following some of the work we have been doing at Conjunct, you know a little about our partner series event. In October 2016, we ran the very first event for our non-profit partners on Marketing. On 28th September 2017, we held our fifth event on Strategy Planning for Non-Profits. A lot of us are aware of how non-profits and social enterprises sometime lack the know-how, skill sets and resources to invest in a great strategy planning process. Hence, we brought together two experienced professionals from the consulting world to share their knowledge in this important area. You can view the entire agenda of the event here. The event was attended by 50 participants from about 35 social good organisations in Singapore.
Part 1: Pre-Event Survey Findings    
One of the core part of our event series is to encourage networking and peer-learning. To help that, Natalie Kennedy, Vice President – Corporates & Institutions, shared some very valuable insights about the general trends on Strategy Planning amongst the non-profits in Singapore. Some of the highlights were:
Of the 150+ projects that we have done at Conjunct, 63% have been in the area of Strategy Planning, indicating the highest need for support in this area.
Close to 50% of the non-profits do their formal strategy planning process every year.
45% of the non-profits experienced the two challenges – 1. Finding alignments while creating the strategy plan and 2. Getting all the stakeholders on board with the plan.
Part 2: A framework for Strategy Planning for non-profits
Sebastien Lamy, Director at Bain and Company gave a very insightful and useful half an hour talk addressing the areas on – 1. How does one define strategy and whats most important 2. A typical strategy planning process and how to work on each stage of the process and finally 3. Deep diving into the BAIN strategy pyramid framework. Some key learnings and take aways that the audience had from this talk were:
The 2 most important things to note in any definition of Strategy are: FOCUS and ACTION ORIENTED outcomes from the strategy.
The difference between the mission statement (which is very inspiring, larger than life, but vague) and the intended impact statement (which is a long but very specific statement covering the target audience, geography we serve and metrics we will measure in our outcome).
The strategy planning process itself is broken down into – 1. Scoping (external scan and situation) 2. Solutioning (broad ideas and solutions including high-level actions) and 3. Planning (detailed work plan, budgets, KPIs and action plans).
100% of the audience members agreed that Sebastien's talk was very useful and helpful.
Part 3: Setting up for successful strategy execution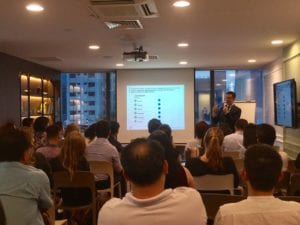 Eugene Chang, Senior Principal, Korn Ferry Hay Group and a professional volunteer of Conjunct (since 2015) spent 50 mins speaking about and answering questions on how non-profits can set up themselves for successful execution of strategy. His talk covered the FAT framework. FAT stands for Focus, Alignment and Temperature. With an activity to kick off his talk and some great anecdotal references, made even a serious topic like this very relatable and digestible. Some of the key insights from Eugene's talk were:
If an organisation did nothing else (like adding resources, new programmes, etc) but simply made sure that everyone involved is aligned with the strategy and action plans, the outcome would automatically increase by 30-40%. Non-alignment is a huge cause of unsuccessful strategy execution.
The leader in the non-profit or the social organisation can make or break the success of strategy execution.
The relationship between the leadership style that one adopts and how that affects the "Climate Dimensions" i.e. the way that the team works and the culture gets formed. This formed the "T" in the FAT framework, the temperature.
100% of the audience members also agreed that Eugene's talk was very useful and helpful.
We know that most of the people in the audience took away something meaningful from this event. We sincerely hope that the knowledge shared by the speakers stay with our partners and continue to be of use to them, as they look at their strategy planning process.
We would also like to thank the Lifelong Learning Institute, for the sponsorship support for this event.
We will be planning the next event in our partner series soon! If you would like to be included in our mailing list, get a copy of the presentations made at the event, would like to be a speaker or contribute in any other way, please do drop us a line at info@conjunctconsulting.org. Hope to see you at our next event!