From November 28th through December 5th, it is Giving week. At Conjunct, we have decided to celebrate this week in a few different ways. First, we would like to celebrate a few special people who have given their time and skills to our mission in helping Singapore.
This Giving Week we are showcasing our young interns who have eagerly given back to society. This past summer, we had some wonderful interns who were keen to learn and give their time to Conjunct. With every bit of work that they do, you can see the hard work and effort that they put into all of it. The work that these young ladies have done is much appreciated, and so are they, so let's get to know them better.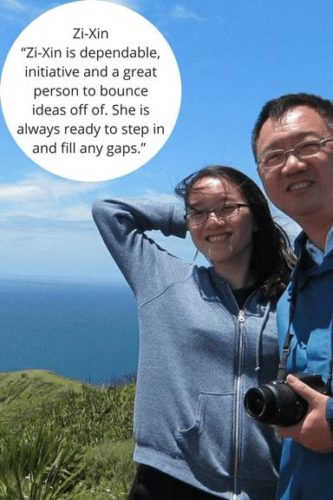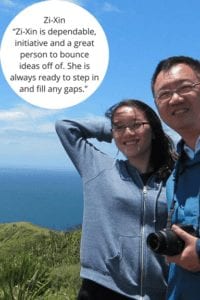 Zi-Xin is a recent Economics and Political Science major from the University of Pennsylvania and will continue to pursue a Master's Degree at Peking University. In Chinese, Zi-Xin means "Purple Heart" and Zi-Xin is named after a U.S. Military award, the Purple Heart Award.

Wei Qi is a pre-university student who has been interning at Conjunct for the past five months. Wei Qi openly loves adventure and sports, but is secretly a dog whisperer!
Xin Rui is a Junior Philosophy major and Business of Entertainment, Media and Technology minor at New York University. Xin Rui spends time volunteering, training in Muay Thai and reviewing concerts/albums for the school paper. Xin Rui enjoys reading, writing, meditating and is genuinely interested in sustainability and believes in the collective advancement of humankind as a species. Xin Rui was recently recruited as a consultant by 180 Degrees Consulting.
Why did you choose to intern with Conjunct?

Zi-Xin: Wharton Social Impact Initiative awarded me a summer award, which funds a social impact internship. I had many' hands on deck' type volunteering experiences, but I thought helping at the strategic and management level through consulting and other skills-based volunteering would be a step-up for me. I was also interested in learning about the social sector landscape in Singapore, where Conjunct has many partners.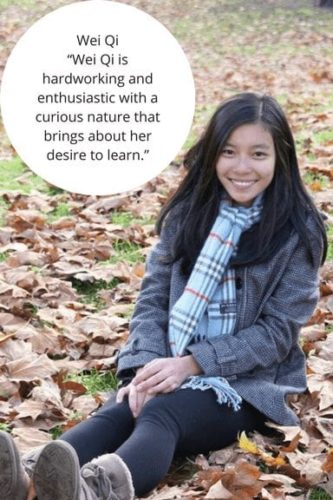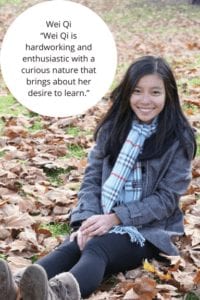 Wei Qi: I wanted to understand more about the social sector in Singapore and learn how professional skills could be applied in such a context. At Conjunct, both the corporate and social sectors work alongside each other. I wanted to make good use of my post-A-levels break to do meaningful and fruitful work. I believe that working with Conjunct not only allowed me to learn a great deal, but also contribute to a meaningful cause.
Xin Rui: I had initially thought I'd wanted to go into music journalism, and engaged in several editorial internships. I realised this might not be the path I wanted to go down, but have come to terms with what sort of person I want to be, and have become keener on entering the social/nonprofit sector.
I plugged "nonprofit consulting" into google and landed upon Conjunct. I believe in Conjunct's mission and core values, and see a lot of potential in their framework to chip away at long-held assumptions and make a difference.
What has your experience been? What have you learnt?
Zi-Xin: I have had the opportunity to be in meetings with corporates, nonprofits and government agencies in the roles of a CSR partner, scoped on a consulting project, and a training/service provider respectively. These experiences have exposed me to the potential synergies and conflicts between the people, public and private sectors, as well as the motivations and challenges that people have when working in the social sector in Singapore.
Wei Qi: I was involved in External Affairs doing infographics for Conjunct's projects and involved in the YCS Leadership Programme, where I was in charge of preparing the necessary materials needed for both facilitators and participants. I also participated in Hackathon events and Corporate Social Responsibility (CSR) programmes that were co-organised by Conjunct.
I will remember the heart skills required. I've developed a greater sense of empathy for unspoken social issues and the individuals involved. I got to better appreciate the value of trust in any relationship – be it between Conjunct and its partners, volunteers and nonprofit organisations, or simply yourself and your colleagues.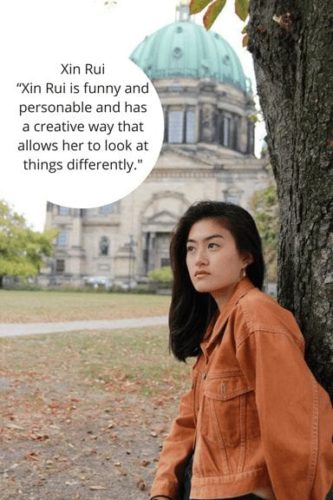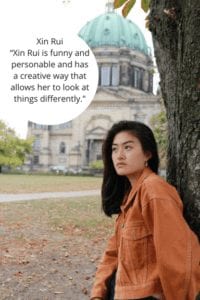 Xin Rui: Through my internship, I've learned a lot about the problems facing those in the nonprofit sector, and how we can potentially tackle them. I've been given the opportunity to coordinate one of Conjunct's hackathons, be a part of the scoping process for new consulting projects, attend training workshops, and be a part of various meetings with industry leaders.
What are your thoughts on your fellow interns?
Zi-Xin: The other interns here are a fun, genuine bunch that I would feel comfortable rambling about life to and dispense unsolicited advice too! The general feeling that I get from all of Conjunct's board, staff, volunteers and of course, the interns, is that people here have their hearts in the right place.
Wei Qi: Nicol is a great partner to work with and consistently helps to ensure that we are kept on task. Her willingness and curiosity for learning is something I look up to.
Xin Rui has a unique and outgoing personality. She stays rooted in her strong beliefs and has an optimistic outlook on life. She is an easygoing member who adds humour to our team!
Zi-Xin is a conscientious and hardworking intern. She has wonderful initiative and offers to help fearlessly.   I admire her down-to-earth and genuine personality. It was always interesting to hear her stories and experiences in the U.S.
Xin Rui: Three wonderfully driven and resourceful ladies I'm so glad to have met. Wei Qi and Nicol haven't even entered university yet, and I'm excited to see how their interests develop. Zi-Xin is amongst the most on task and reliable persons I've met, I'm in awe of her decision to do her masters in Beijing, and I have no doubt she'll end up conquering some ridiculous feat.
We are so happy to have had these young women as interns at Conjunct. It was a pleasure to watch them as they gave their time and skills to do meaningful work. Their enthusiasm carried on throughout the entirety of their internship, and it was a joy working with each of these interns. By the end of the internship, these young people were given a new perspective and now know what it means to create an impact in the sector. Conjunct thanks them for all that they do.
This Giving Week we encourage all of you to give back in whatever small or big way that you can. It is people just like our interns that motivates us to do what we do every day. Do follow our FACEBOOK page to know what else we have in store this week.
Reach out to us if you wish to join our mission here.