The volunteers at Conjunct are more than just an important component of our organisation, they're the spirit and lifeblood that keeps us moving. In five years we've worked with close to 1000 different people who have given their time selflessly in order for social good organisations here in Singapore be stronger . It's inspiring seeing so many willing hearts working together towards something greater than themselves.
Today also happens to be the start of the Giving Week, where we see a lot of people coming forth to spend some time in the social sector and wanting to make some social impact. Starting today, every month, we will be featuring one volunteer of Conjunct. It is an opportunity to get to know our folks a little more and also for all of us to appreciate the quality of the volunteer community that we are all a part of.
Our very first featured volunteer is Liew Ee Chan!
Work with Conjunct:
Ee Chan joined Conjunct Consulting as a student consultant in 2012 as a part of the NUS Chapter. He has hence been with us in 4 out of our five-year journey. After graduation, he has continued to be a professional volunteer. He has since held various leadership positions with Conjunct as Deputy Vice-President, Training (2012-2013) and Deputy Vice-President Student Chapters (2013-2014), and is now the Vice-President for Development & Training.
Building Conjunct Academy
Ee Chan has played a considerable role in establishing the Conjunct Academy earlier this year. He also volunteers as the Vice-President for Conjunct Academy. From helping build the training curriculum to training the mentors, from recruitment to the final delivery of the programs, he takes great responsibility for the delivery of Conjunct Services.  Known for being a methodical person who carries with him excellent business sense, his support over the last four years has been invaluable to us.
A little bit about Ee Chan: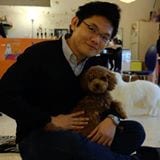 The ability to translate our professional skills to help others is the one thing that Ee Chan loves about the work he does with Conjunct. His full-time job outside of Conjunct is as the Senior Financial Analyst at Procter & Gamble, Singapore.
Ee Chan is known by many of his peers to be an engineer who is not at all interested in engineering! :)) He is, in fact, the go-to person for many who are looking for financial advice. It is no surprise that his interests lie in knowing, learning and applying business strategy & modelling. He says, " Look for me if you want someone to discuss business strategy/modelling of any industry (tech/non-tech), profit/non-profits with"
His message for Fellow Volunteers:
He firmly believes that Conjunct is the place to learn & develop new skills, make like-minded friends while helping the community!
We celebrate Ee Chan and many more volunteers like him, without whom none of the work at Conjunct would be possible. If you would like to connect with Ee Chan, here is his LinkedIn profile: https://www.linkedin.com/in/lieweechan
If you would like to nominate a volunteer to be featured here, please write in to info@conjunctconsulting.org. As always, do drop us a line with your thoughts.
To find out more about volunteering with Conjunct Consulting, click here.